I got pretty busy in the fall, not only with clients but learning a new river to give my clients a better chance to take home those prized salmon. Needless to say I didn't post daily pictures as I try to do so here a few new photo's.
As you can see I will be adding Striped Bass to the menu soon, it's a blast!!
Springer's have started coming in following the last storm. Spring Chinook salmon are being caught on the Rogue River, they are fresh out of the ocean, bright and full of fight. The water levels and clarity are just about perfect, now is the time to get your trip in. Here is a beautiful #23 wild springer we had to release yesterday.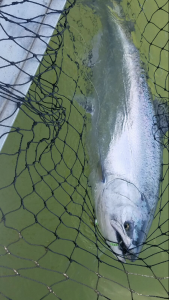 Got out today to check the river and fishing in general. Water temperature was only 44-45 degrees so there was little activity fishing. There have been a few steelhead caught over the last few days but we are still waiting for the springer's to arrive. With all the snow we are getting up high we should have great water to bring them in. I am hopeful it will be soon! Get with me to book your spring salmon trip today 541-347-6338.