Oregon Salmon Fishing – Striped Bass – Crabbing
Oregon Salmon Fishing – Striped Bass – Crabbing
Join us for the finest Oregon Salmon and Striped Bass fishing!! Fish Oregon Guide Service is experienced in helping to plan your outdoor excursions. We can show you the best in Oregon fishing trips using our expertise as a licensed fishing guide on local waters. Whether you are interested in Salmon, Striped Bass, or a great Crabbing trip, we offer choices depending on the season, river condition, and water levels. We do whatever gives you the greatest opportunities on your Oregon outdoor vacation.
We fish on some of the finest salmon rivers in Oregon and use the best equipment on the market. Our Power Boat is a state-of-the-art 22ft. Jetcraft with a 7 ½ ft. beam Pro Guide Model driven with a 225 hp Honda outboard. Its design allows us to comfortably fit 4 fishermen when we head out on the river. All equipment and bait are provided on your fishing and crabbing trips.
WHY FISH THE COQUILLE RIVER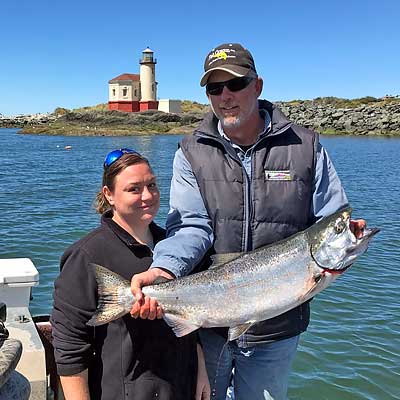 The Coquille River and Bay in Bandon Oregon complete a picture of beauty and serenity. Views are typically of blue herons, egrets, geese, osprey, and deer as the land on both sides of the river is rich with green pastures. A day of fishing on the Coquille river will provide everyone with memories for a lifetime.
The Coquille River is unique in the fact that the river changes direction four times a day with the tidal influence
You will troll with the tide from the bay up to the first 13 miles of the river.
There are fewer boats on the Coquille putting less pressure on the fish which makes the salmon bite more aggressive
The Coquille river offers Chinook (King) Salmon fresh out of the ocean from mid-August through October, these salmon typically weigh between 18 to 30 pounds with many whoppers from 30 to 45 pounds. The Coho (Silver) salmon start showing up at the beginning of September through November, they range from 8 to 15 pounds and put up a great fight.
Coquille River Fishing at Bandon
Coquille River Striped Bass: Though these aggressive fighters are here year-round, the really big ones start coming in from the ocean in June and stay through October when they head back out to the ocean. Big Striper run around 30 – 35 inches and when they attack a topwater bait it makes your heart skip a beat. The best fishing is usually early mornings before sunrise into the early morning and late evenings starting before dusk and into late evening hours.
Coquille River Fall Chinook fishery: August thru the end of October we fish the Coquille River located just north of Bandon near the famous Bandon Dunes Golf Course. We fish the tidal-influenced water trolling for nice Fall Salmon and Coho or Silvers.
Crabbing Trips are a great family adventure. We will crab in the bay which offers us access to lots of Dungeness Crab without the worry of ocean waves. Trips are for two hours and we can take up to five people, this is a good trip for all ages over 4 years old.
Coos Bay Oregon Fishing
Coos Bay Fall Chinook: We fish from the tidal waters and up the main rivers of Coos Bay July through November for Kings and Coho or Silvers. A pleasant fishery with room to fish, lots of fish caught here and they provide the fight of a lifetime.
Fish Oregon Guide Service
Southern Oregon rivers produce some of the best Oregon salmon fishing trips. Our local rivers provide the supporting cast that makes Bandon and Coos Bay Oregon the salmon fishing experience you have been looking for!!
I Want to start my Real Oregon Adventure right away!
Please Call Me…